1. Character name, Server

Divenarious--Tichondrius
2. Class, Race, and Spec (and Artifact Level)

Shaman, Troll, Elemental (25)
3. Link to an Armory profile, and an explanation of anything that may not be readily apparent from your Armory profile (alternate sets of gear, currently PvP-specced, etc.)

https://worldofwarcraft.com/en-us/character/tichondrius/Divenarious
4. What are your usual playing hours? Are there days/times when you are consistently unavailable? Inform us of your daily work/school schedule, what time do you get home from work/school, and what time must you be in bed for the next day. Are you able to make our raid times in general? Is this availability going to change within the next few months, or with a change in Semester (if applicable)?

Daily work schedule is generally 6:30am-4:30pm CST. I generally like to be in bed around 10:00pm CST when I have nothing going on, but am comfortable pushing it back to 12:30am for events such as raiding. These raid times are perfect for me as I will be moving from Memphis (CST) to Cleveland (EST) in January and will not have to extremely late night in a PST guild.
5. Discuss your prior endgame raiding experience. Specify your experience with Heroic/Mythic in previous content as well as your experience in the current tier.

Current Tier: 3/8M with a guild I formed and raid lead <NO FUN NOT EVER>. This was a guild that I made with my friends and we raided casually just to play together. Unfortunately, many felt BFA was an un-fun expansion and wanted to stop, causing most of us to stop playing. https://www.wowprogress.com/guild/us/tichondrius/NO+FUN+NOT+EVER

Previous Tiers: My most notable raiding experience was with <Might> (US15th) for Nighthold and Tomb of Sargeras. I began trialing during Trial of Valor after they had cleared the content and began as a starting member for Nighthold. We raided at an extremely high level and the requirement for raiding at that level was nothing less than perfection. Right before we began progress on Fallen Avatar in ToS (which almost no guilds were interested in bringing their Ele's anyway due to insane immunity class requirements), I talked with the RL and GM about stepping down due to time constraints with finishing college. Now that I have since graduated and am working full time, none such constraints exist anymore.
https://www.wowprogress.com/guild/us/zul-jin/Might



Legion:


Antorus: US233 <Tsu>
Tomb of Sargeras: US19 <Might>
Nighthold/TV/EN: US15 <Might>
Warlords:
HFC: US130 <V I S C E R A L>
BRF: US 200 <V I S C E R A L>
HM: Cleared after BRF released.
6. Why do you want to leave your current guild? Why do you want to join us? Specifically, what interests you in our band of merry idiots?

My current guild was our effort to just play together as a group of friends and kill content. Unfortunately with everyone stopping, that does not seem to be possible anymore. What I want from a guild is an environment where all members are serious of the time commitment to the game while still being able to joke around and enjoy their fellow players. After seeing previous kill videos, it is apparent to me that the players on the current roster are very strong, enjoyable to play with, as well as have a serious commitment to taking the raiding time seriously.

7. Give us some info on your class knowledge and self performance analysis in this section:
7a. What resources and practices do you use to keep up with your class and maximizing your DPS/HPS/Surivability?

For Elemental, Stormearthandlava.com as well as the Earthshrine discord. This is where a bulk--if not all--of the competitive shamans hang around to discuss balance changes, fight specific nuances, and efficient DPS rotations.

7b. What fights in the current tier do you swap Talents and Traits to something different than the norm (if at all)? What do you swap and why? Feel free to list on a boss per boss basis.

The way Elemental is currently designed--there is not really any "different than the norm" possible without dramatically limiting your DPS potential. There is simply a single target, and AoE setup.

7c. How do you analyze your performance on a new fight and figure out how/what you can improve on next week? Don't just say you use logs and compare to others of your class - what specifically are you looking for when you have a good/bad parse?

When analyzing performance, shamans can generally look at Maelstrom usage, casting uptimes, and cooldown usage. Most notably is being able to predict the kill time of a boss and use cooldowns accordingly to maximize cooldown stacking without sacrificing extra uses.
8. Please include your character log report showcasing your performance on the relevant bosses of the tier. If your logs are private, please change your Warcraftlogs login and list the username/password here so we can access your logs. If you aren't comfortable listing it publicly, please PM it to Palin privately on these forums. Please remember to change your WCL login again a few days later after we've reviewed your application.

https://www.warcraftlogs.com/character/us/tichondrius/divenarious
9. Of the above logs, please do a quick analysis of what fights you did well on, what went wrong on certain fights, etc. Use this chance to explain any context behind good/bad logs.

On the highest Taloc parse, the first thing to check would be the resource usage. https://www.warcraftlogs.com/reports/KqxBtQrR7JAaZPfy#fight=1&type=resources&source=7&spell=111 Being that the main point of Elemental, well, most classes right now frankly, is just build > big hit, build > big hit, build > big hit, it behooves you to ensure maximum usage of big hits as possible. Secondly I would check debuff uptime, for Elemental it's basically just Flame Shock. In this parse it was 88.02%. From the log I can see that the reason there was a 11.98% discrepancy (as it should be 100%) was due to the elevator stage on Taloc and not properly timing the 6s CD of the spell between ensuring the boss has a stack and applying a new one to the bloods as they spawn, this probably being the main efficiency error on this log.

10. Can your PC handle WoW at high effects (Lust, Scorp Room, etc.)?

It can.

11. Please include a SS of your raiding UI. IF A KEYBINDING IS NOT SHOWN NO YOUR FRAME, PLEASE EXPLAIN AND list any relevant keybinds not shown in the screenshot. Make sure we can see everything that pops up in a raid, meaning take the SS in combat in LFR or something of the like so we can see your boss mods, timer positioning, WeakAuras, raid frames, etc.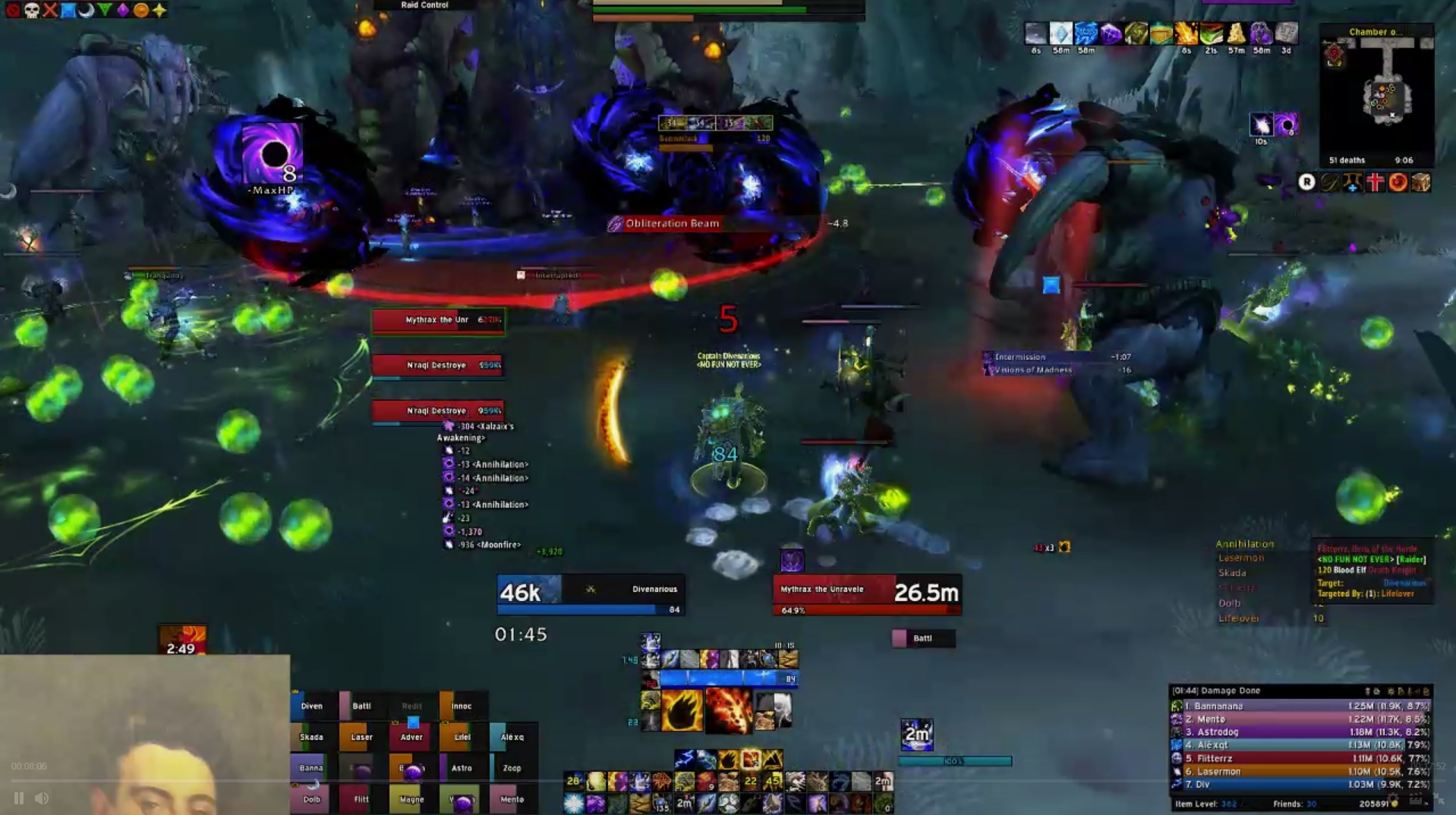 12. Tell us a bit about yourself. Age, gender, work/school, hobbies, etc. Add anything else you feel is pertinent.

My name is Ryan, I'm a 24 year old Mechanical Engineer who works in Aerospace Manufacturing. Being that the engineering side of aerospace is a very precise and exact science, there can be no room for error or lapses of judgement; I feel I bring that aspect of my work into my play. I am currently a part of a development program that requires me to move to a new location every year, staring in Los Angeles where I lived my entire life, moving to Memphis where I've been for the last 11 months, and shortly to Cleveland where I will remain for the next year. I work in an environment where your work and performance is heavily scrutinized and constantly evaluated, and I try to bring some of that intensity (to a degree, we're trying to have fun after all) to the game.

Also, I am fully comfortable playing practically any spec/switching classes for the need of the guild. In Might it was expected that you could make switches to any other similar class type should the raid need it in order to maximize efficiency of the group. I currently have an ungeared Boomkin that I could play, and an unleveled Mage that I am equally comfortable playing. I can also flex heal on a shaman and did so on multiple occasions for raid.

13. Out-of-game contact information - Discord tag, Battle.net ID, etc. Some way we can contact you besides these forums.

BNET: DIv# 11377
Discord: Div#7060