Mad late on these updates, and a bigger one with the end of expansion stuff to follow after this.
Ultraxion died pretty quickly after we came back from the holidays: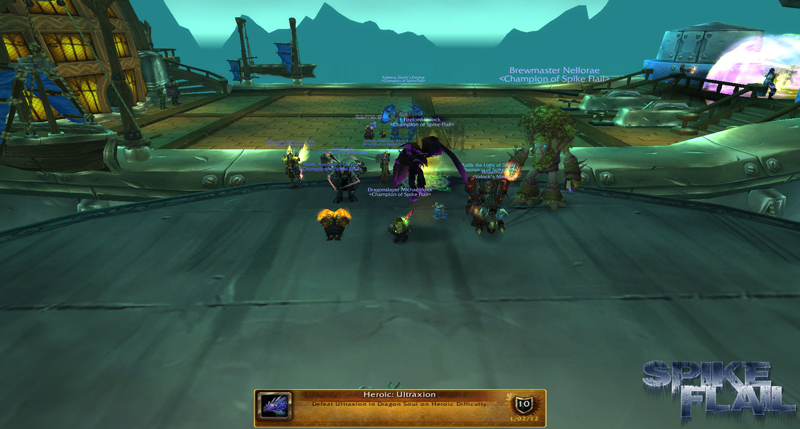 Blackhorn sucked for a while. Some of us liked to be an heroes and commit suicide. Others tunnel visioned and let their partners die. Acto and Kal juked each other 3 times every Barrage. It was kind of impressive. Eventually we plugged into the Overmind and won.: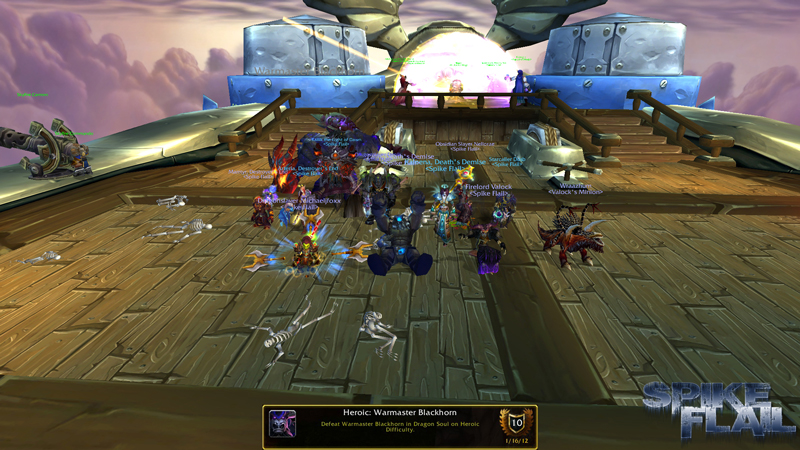 WoL
And with that we said goodbye to our resident Grand Social. Meth moved on to greener pastures after this fight. His bar mitzvah was coming up you see, and 13 year old men don't play World of Warcraft anymore. Good luck with your manhood Mark, we're all rooting for you.
Spine was next.. Oh Spine.. The luxury of a wonderful new Mage recruit (hi Nissel!) and being 10m made the DPS check of the fight pretty easy for us, but we kept being overwhelmed by Bloods in the end of the fight. Once the 5% nerf hit, In an effort to get more AoE we followed said Mages suggestion and tried 4 healing it for a good 2 weeks. Which worked nicely, our AoE was clean, everything was fine until that 12:30 minute mark, and the crazy amounts of Blood we had in Phase 3.2. We thought were OK on time, we compared our wipe logs with kill videos and they were about the same time. We just needed to survive about 15 more seconds in P3 and we'd have a kill.
With two pulls left in the night, we got the last Tendon pry to 20% and then 6%. We were so close, but we kept falling apart a few seconds before we needed. Our 4th healer had to leave at that point, so we decided to try one last shot with 6 DPS and see how it went. Well what do you know: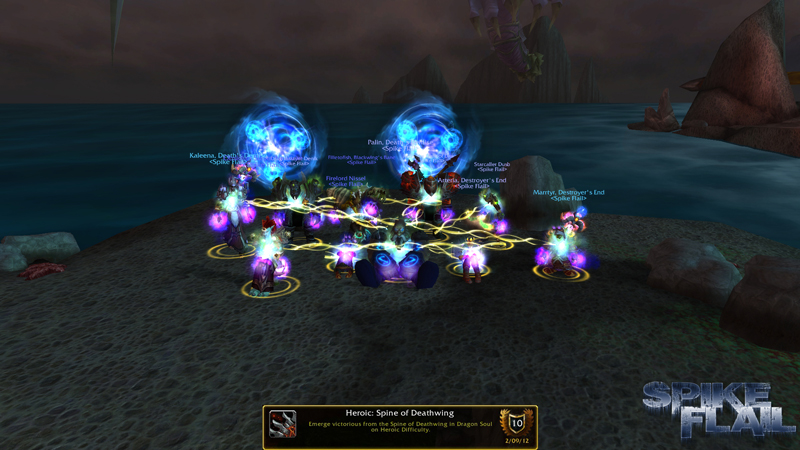 WoL
And with that we also said goodbye to Marrtyr, who had recruited his replacement in Nissel and finally could leave the game he had grown to hate. Big thanks to him for sticking it over the month because he knew we needed him. He has since drank himself into a coma due to the stress that is the Washington Capitals playoff push. He will be missed.
We probably could have killed this a week earlier if we had switched back to 3 healing and not overestimated what an extra DPS did to the overall time of the fight. We dropped from a 12:54 wipe to an 11:21 kill with the extra DPS, and subsequently 1 shot it on our first attempt with 3 healing of the night. Sure the healing was rough and the AoE a bit messier. Sure the healers were OOM at the end and all died. Sure this almost happened with 10 seconds left in the fight:
[22:52:06.254] Corrupted Blood hits Palin 2549 (O: 11152)
[22:52:06.659] Palin's Dispel Magic dispells Kaleena's Blood Corruption: Death
[22:52:07.018] Palin dies
But it didn't. The damn fight was finally over, and the last fight of this expansion awaited..
(Big Madness + end of expansion update coming soon).